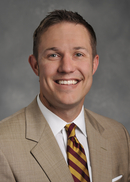 Nick Bellamy, CFP®
Financial Advisor
972-980-2049
Professional
Nick Bellamy is a Financial Advisor. He specializes in individual, family, and small business financial planning. Nick graduated from Florida State University with a Bachelor of Science degree in Finance. After college he spent five years as a mortgage originator for a local mortgage bank. Nick joined Northwestern Mutual in 2011. Ever since, he has worked hard to develop enduring relationships with his clients by providing expert guidance for a lifetime of financial security.
In his first four years, Nick was recognized with the New Financial Representative Bronze, Silver, Gold, and Platinum awards. Nick achieved Million Dollar Round Table production the past two years. He also was recently published in a company video about student loan debt. He shared how he works with Millennial clients and their student loan debt, and how it doesn't have to hinder their ability to save.
---
Personal
Nick Bellamy lives in Frisco, TX with his wife, Alex. They have been married for six years and have two sons, Cade 4 and Stone 2.
In his free time, Nick enjoys spending time with his family and is a member of CrossFit Addison. When he is not with his family or at the gym, Nick is usually on the golf course. He has been a golfer for as long as he can remember and is currently teaching his two boys to hit golf balls.
---
Community Involvement
Nick Bellamy enjoys being actively involved in his church and the community. He is a member of Prestonwood Baptist Church where he is a leader in The Blend Young Families Bible study and serves 4-year-olds in Prestonwood Kidz ministry. Being a leader has given Nick the opportunity to make new friends and study topics relevant to contemporary life.
---